Evacuated
Friday I began my final year before turning 40. As usual, I tried not to make a big deal out of it, but you know how it goes. Everyone else wants to make a big deal out of it.
I played a rough softball game that night. We lost by 5 and I must have run around in the outfield as much as I would normally in the course of 3 games. I was dead tired and it was of course a late game
I attended the HomeWalk early on Saturday morning near Down Town LA as planned and right away I could tell it was going to be a long day. My legs were sore from the game and lack of sleep, and the Plantar Fasciitis I've been struggling with for months was really acting up. I finally started to warm up near the end of the walk, but it was a lot more difficult than I would have expected. I'm in reasonably good shape, play a lot of sports, walk a lot, cycle, run, etc. But a 3.5 mile charity walk kicked my ass. I was feeling my age.
On our way home from LA we noticed the smoke. The weather was very hot and dry, with gusts of wind in some places up to 50mph. We heard about the Sylmar fire, in the northern part of LA County, that morning, but as we were doing the walk a large fire broke out in the community of Corona, on the border of Orange County and San Bernardino County just to the south east of my community of Chino Hills. We both felt a sense of dread when we saw the smoke from 30 miles out and it was with good reason.
During the day the fire spread west through the communities of Yorba Linda and Anaheim Hills. Close to 200 homes and commercial buildings were over run by flame and people we know well were evacuated. I used to live in Yorba Linda and watched on TV as the apartment building I lived in caught on fire. As the fire pushed north through the hills above Yorba Linda, W and understood the implications immediately.
Just to the north is Chino Hills State Park. It's 31 square miles of rolling grass-covered hills, campgrounds, hiking and biking trails, and great scenery. I know this because I ride it just about every weekend. It's where I took W hiking the morning I asked her to marry me. You see I live 1 block north on the border of Chino Hills State Park. During the summer to late fall months it turns brown like all the other hills up and down our state (which give us the name "The Golden State").
I've lived here almost 5 years and have never seen the park burn. That all changed yesterday. At about 4:30pm I walked out into my back yard to let Jesse out and get a break from the fire coverage on TV and snapped this shot with my phone (not bad for a camera phone):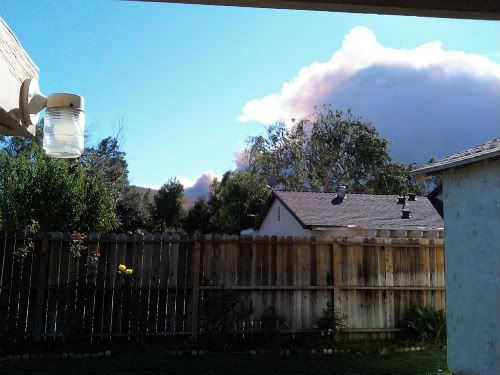 I immediately walked back in and told W we needed to start thinking about what I should pack up in case they evacuate us. Within a couple of hours, we had both our cars full of everything from family photos that are close to 100 years old, to golf clubs and mountain bikes. I even had W's surfboard crammed in the Montero along with all my insurance docs and cameras.
At about 8:30pm I walked out back and snapped this photo:


At 11:30, after spending most of the day glued to the news coverage, I passed out in front of the TV and came to around 3:30 am. The news was still on and W was asleep in the other room at the computer where she'd been checking the interactive map and other news sources. They were reporting that Carbon Canyon was being evacuated. It's a small community about 3 miles west of me, separating Chino Hills from Brea. I walked out the front of my house and saw the orange glow I noticed earlier, except that time it stretched as far as my eye could see. It was close. My neighbors were all awake and staring at the hills in awe, not really believing what they were seeing.
45 minutes later, after checking the news again and getting sucked up in the coverage, I crept back out to find that the orange glow had changed to flames. The fire crested the hill and was coming down toward us.
In about a minute flat, I woke W, grabbed up the last of my stuff, and loaded Jesse in the car. While I strapped the last bike on the back and W made sure the house was locked up, a neighbor down the street who works in LA for the LAPD confirmed that our neighborhood was on mandatory evacuation notice since 4:00am. Before you could say "Fire Truck", we were on the road to W's house in Yucaipa.
The next two shots were taken as I monitored the situation from her place, fading in and out of consciousness due to lack of sleep. The first photo is of Jesse watching me view the map. The red area shows the parts of Chino Hills and the State Park affected by the fire. My house is in that zone in the upper half. The second photo was of the posting Chino Hills had on their web site about the main street to get to my house being closed due to the fire.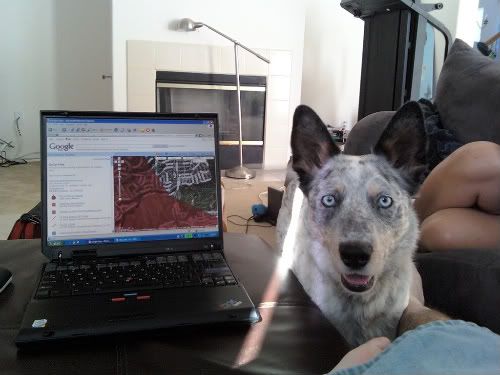 Jesse and I are back home now. The evac was lifted at about 4pm this afternoon. When everything was said and done, the fire was extinguished the equivalent of two blocks away. If the wind hadn't died down near daybreak, many of us might have lost our homes. We were lucky, but a lot of other people in So Cal haven't been so lucky.
Keep them in your thoughts. It's going to be one of the worst firestorms in state history.
This is by far the most interesting birthday weekend I've ever had.